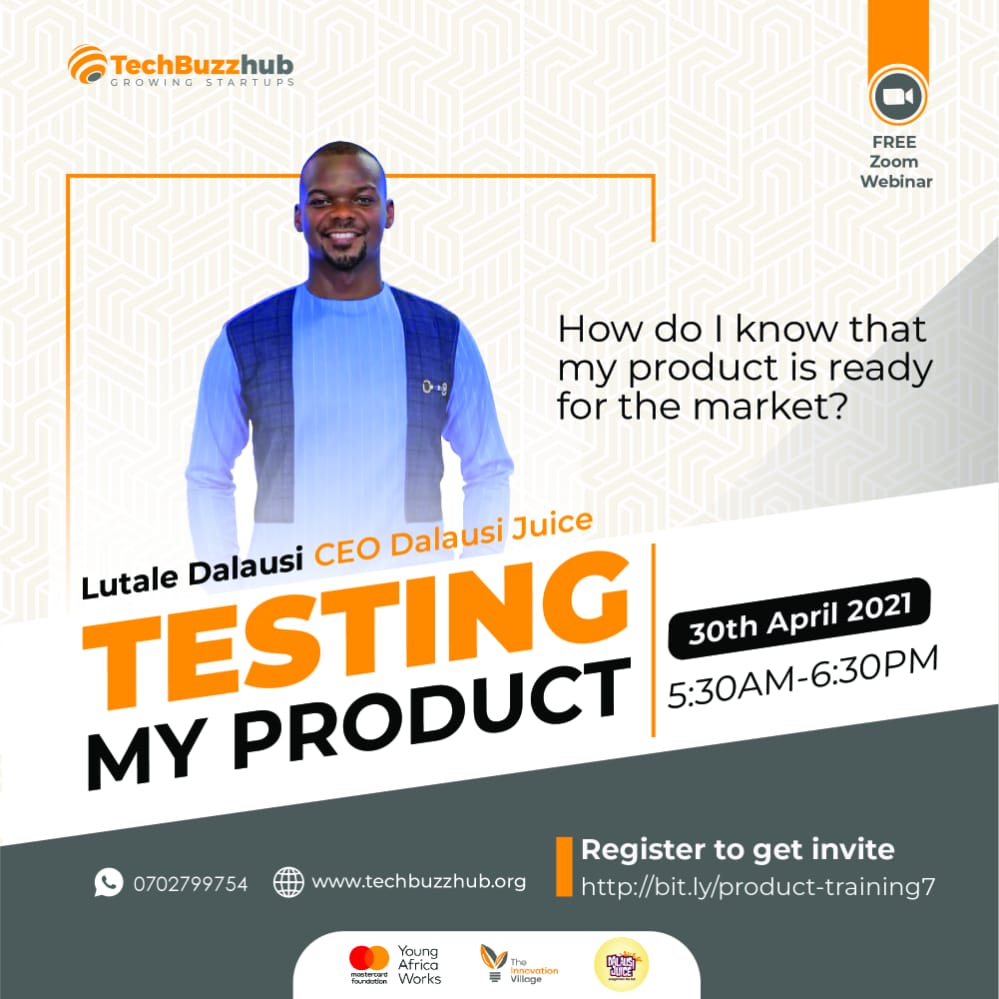 PRODUCT TESTING Pt.1 – TRAINING
How do I know that my product Is ready for the market?
You are a young entrepreneur and you have moved all along the way from ideas and forward through formulating a business plan, and proposal all built around a business concept.  The maturity of your concept is realized in your product. But the question remains how do you test your product? Before you even test your product, what is product testing? Is it even relevant after doing market research? All these and many other practical questions shall be illuminated with a little reference to the webinar session where we hosted the CEO of Ndalausi Juice. Mr. Ndalausi Lutale, a youthful entrepreneur who has made it to greater heights at a very young age.
What is product testing?
Product testing is probably the nature of feasibility of one's product with the target audience. It is the process where an entrepreneur tries to find out whether or not his product being introduced in the market is solving any problems, is acceptable, and wanted by the target market. In a way product testing is part of market research.
Usually as a pre- requisite you need to put more emphasis on the feasibility of your product.
How did you do product testing?
In order to have your product tested in the market or with your target audience you need to consider a few elements. These include price, premises/ place, and promotion, as Mr. Ndalausi puts it. You need to know what price you value your product at, whether or not this price shall be accepted by the consumers you are introducing it to. You also need to know the place where you are introducing your product to, different products are demanded differently depending on the region, or place. Lastly you need to consider the mode of promoting this product. The way you package your product affects the general outcome of your product testing and what kind of feedback you can expect. So basically he put all these aspects to consideration and then hit the streets.
However, the question is, are these really enough for product testing to kick off?
Theoretically from a bigger perspective yes, however from a reality point of view, there are still other things you need to put in place and those include;
Resources; – you need to know which kind of resources to involve in doing product testing. These include, money, human resource; which can include people in your circle like family friends, neighbors among others.
Channels: – the channels to use while actually testing your product also is very important. You need to know how best those channels or platforms can help you attain your marketing goal. For example, if I used the internet and social media to have my product hit the market would I have results. This is all dependent on which type of product.
Customer segment: – What is your customer target? What kind of customers are you looking forward to dealing with? Which age bracket are they? Usually they ask where is your fan base. Your customers cannot be the elderly and you are giving your product to the youth and kids. So you must look out for your customer segment in the population.
Key partners: – Usually these help you move the product in various directions. Who are your partners and what are they in the sight of the target population, or even the public?
Reality: – It's always about reality and surely narrows down to this. What are you doing on a daily basis to test your product to see whether the problem that exists in the society is being solved.
Mr. Ndalausi, how did you do it the very first time?
First I had to scan around the environment where I was. I looked out for the problem that the population was facing. I used to sell water and soda. And slowly by slowly people kept asking for juice and I kept moving with what they demanded at the moment not until I came up with this kind of juice. While testing my product people always gave me feedback on how I needed to change this or that. One time I was even stopped from accessing a bank. The bank manager claimed hawkers were not allowed in the bank premises. so it was not easy but I had to give it my best, by not giving up and being open to all comments from everyone testing my juice.
How should one handle and assess feedback especially during product testing? In other words, how do you interpret data?
Feedback is very crucial to product testing and as an entrepreneur you must be able to expect feedback from what you have given people to taste. Feedback is in two ways the positive and negative feedback. There are those people you offer your product for tasting and they simply encourage you to continue producing the product with suggestive ways of improvement. This is what is called positive impact or feedback. On the other side, there are also those who actually discourage, abuse and tell you how there is no room for your product in the market. This is negative feedback.
Question always is how do you handle the two? From a personal perspective Ndalausi says it's not easy, but acceptance of one's imperfection should be the first step towards growth and improvement. It's also good to be so flexible in your business operations. This helps you and your product remain relevant to the customer or consumer base.
Is it relevant to take on product testing during your business growth.?
Yes, Mr. Ndalausi of Ndalausi juice says it is very important to carry and keep track of how your product is doing among consumers depending on your consumer base. This is because it's a business and at the end of the day one needs to know how best he can maximize profits, and this is only attainable through knowing the amount of sales one has done.
Can someone do product testing as a job? Yes, it can be a perfect job for someone depending on what that person is good at. To do this well that person should also be a talkative person, amidst all other attributes. You must be able to explain at length the kind of product that you are introducing to this person. You must know how best you can convince someone that your product is good.
Which people do you need during product testing? Can you do it by yourself?
You need people to help you in different ways. You cannot always do it alone. You need help from colleagues and friends etc. people have different preferences and so you need a sample space of the various kind of preferences that people have. So you cannot do it alone, you may need a team. That does not mean that you can't do it alone. Yes, you can, though it may be a little tiresome.
What are the challenges that you think are involved in product testing?
Expect the negative feedback as was earlier talked about. But how best to handle it is also key to your success as an entrepreneur.
Resources … resource in terms of money to run up and down the streets to get people to tell you what they think about your product. Usually resources are in various forms like we earlier noted.
Poor data collection mechanisms during feedback collection. This may actually make you get wrong results at the end of the day.
Insights FROM MR NDALAUSI
Product testing is for every entrepreneur. It is very important to start irrespective of how much you have at hand in terms of resources. I can tell you, some of the things I regret is to start in time. I did not start immediately. I identified the problem that was in my community. So don't fear to start, and have the courage to go through all situations let us, the entrepreneurs, not sit in our comfort zones, and yet the world is ready to support us in our inventions and innovations.
Product testing varies with the kind of product you are actually testing. It is important to know and identify which kind of product can be tasted in which effective way. Check out the next blog for another version of practical product testing.
BY
MARTIN MOSES ANDAMA
TechBuzz Hub