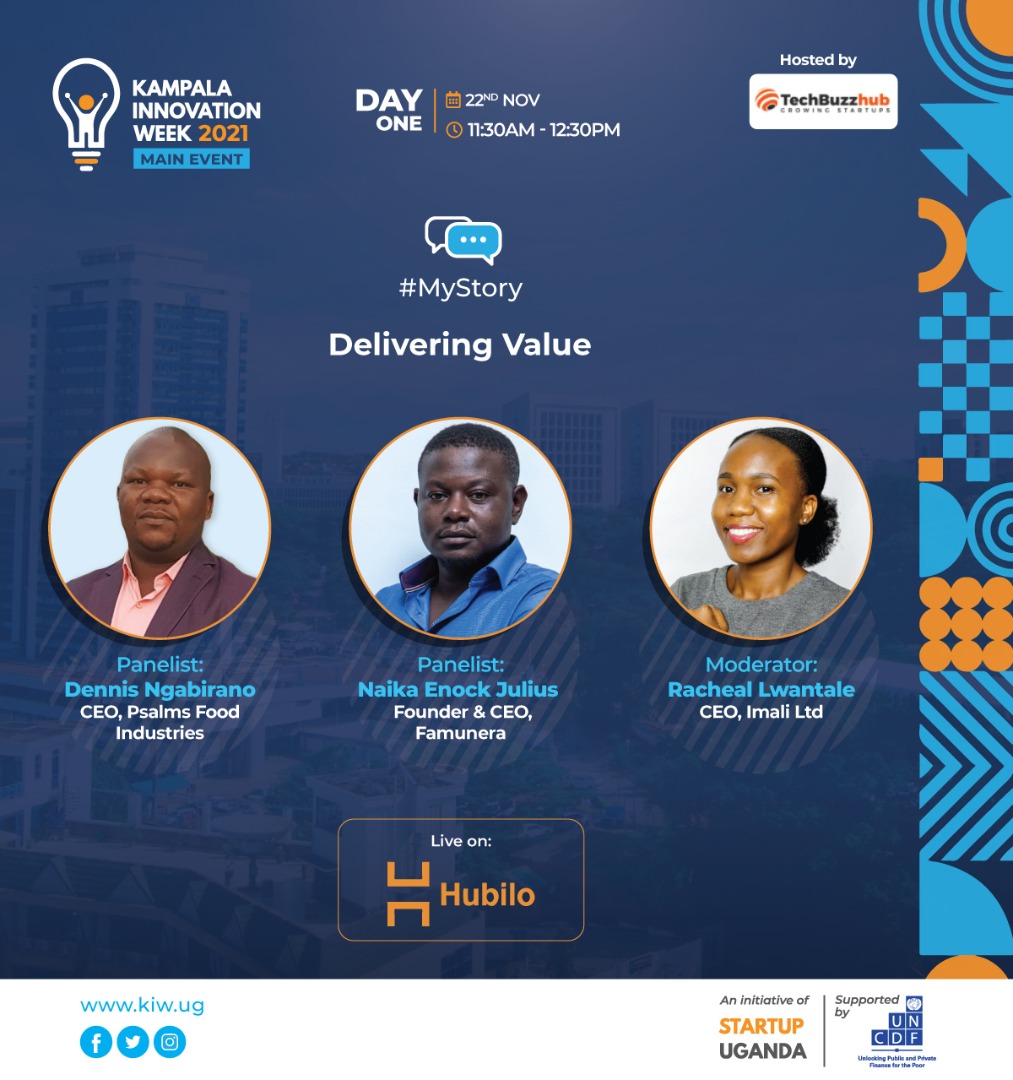 DELIVERING VALUE TO EACH AND EVERY CUSTOMER!
"A conversation of two of the country's youngest breakthrough entrepreneurs in the two – year covid shuttered economy"
This was a KIW event that took place this year 2021 in November, and it was about delivering value to every customer. The event was organized by startup Uganda, in collaboration with TechBuzz hub. And TechBuzz Hub happened to organize the panelist among those including Mr. Dennis Ngabirano – CEO and founder of Psalms Food Industries Limited, and the one Mr. Julius Nica. The CEO/ Founder of FamuNera.
Covid 19 pandemic came at a time where many businesses are established, talking about Uganda in particular where there is growing a growing potential for entrepreneurs, it's fitting to say that the coronavirus pandemic found several businesses trying to take off in the start. It surely affected business, my business, his or her business, their business. Your business, however, was not entirely sent to the grave, tell us what, your journey looks like from when you started to date?
My name is Dennis Ngabirano, a teacher by profession, a consoling psychologist by training, an entrepreneur partly by training. I am the CEO and founder of Psalms food industries limited. Psalms food industries have products by the brand name SUMZ, and this is because of various factors, some of our customers confused our initial brand name for another fact in society that is religion, we also lost out with many other customers who thought and related our company to a religious company, so by mentioning and rebranding to the current "sumz" we hoped to capture all categories and biases of the different people. We wanted to be inclusive.
The business is a successful prototype of simple coursework that a student wanted to have marks on. That student was me. A course work fulfillment in the university that at first I never took seriously but later when I gave it a second thought, it's right now what am invited to talk about. Located just a few kilometers from the city Centre, Psalms food industries are limited now with over 200 staff working below 40years. 
We are a food processing industry seeking to add value to the local foodstuff that we have. We started with one product that was crisps and "gonja", to over and above 20 line products that we produce.
JULIUS NICA, founder and CEO, of Famunera, how and what was your journey like during the pandemic.
We believe that we are Uganda's biggest farmers market place that leverages mobile technology to source genuine, high quality, convenient and affordable input from suppliers to farms, provide e- extension services, come in during harvest times and provide a farmers market for the farmers. Our commercial business kicked off in 2016 after rebranding from NIken foods to Farmnera.
My entrepreneurship journey goes back to 2009 in my s.5 where I was doing business alongside my education.  As a human being in Uganda one time I was conned a lot of money from the well-known Container village, I paid for farm suppliers and received nothing at the end of the day. So it was not until I experienced this that I started thinking about the multitudes that go there and end up being conned or even getting low-quality products, I thought of a solution to better the situation for the farmers on the grass root.  Hence Famunera. \
Mr. Dennis, tell us what your journey looks like through the pandemic. We all know how tough it was and how many businesses were sent packing. Yet after the tide, you still stand firm. 
Teaching mathematics in a good renowned primary school- city parents school Kampala, I lived a life of a multi-tasker, after a serious day at school teaching student I would leave at 5 pm, rush to "owing" market to buy "Gonja", in the panic of the evening traffic, take a boda to the university to attend lectures. I would leave my gonja cargo at the gate of the university and finally head home in Nansana where I lived with my family up to date. Take a shower, have supper and then settle in for a different sort of job. Prepare the crisps with my family. This would take me about 2-3 hours then rest. This would go on from Monday to Friday. Sometimes preparing the product would go on for hours in the night. And yet the next day I would have to teach effectively. 
So the next day I would go to school to teach and as well to sell in the school canteen and at the university canteen, at eh end of the day, I walk home with the money which I shall use to redo the same cycle. On weekends I would go around the areas of Kisasi, Ntinda, Bukoto, among others to do coaching. Parents would invite me home for like an hour and I help kids with mathematics.  After getting the money I would rather have It invested into the business, I did everything I could to grow the business. One thing I did not do, was to quit my job before getting to know the strict direction of my business. 
Finally, I asked for study leave and it was granted, a decision I take to be the most valuable at that moment because it was after that leave that I was able to see and envision my business from a particular angle and a broader perspective. I used all the available resources to grow my business. Yes, later on, the bank's schemes came in, and yes I had to go through and apply. But that way the where the question was. 
The first time I got a loan from the bank, I had paid them fully and the latest I had done was the 3million. And this time around I wanted 150million shillings. The banks at first were skeptical because they thought it was not possible, however, my previous payment schedule was enough to leverage my loan ability and I finally got it.  I used the money to mechanize my production, buy off the house we were renting for production
Talking to you Mr. Julius, you told me the last two years were great. Well, tell me together with the listeners what it means because we all know how tough the last two years were like in the business community. Everyone is crying why not you?
For the record, I would like to say that yes, it's not a lie, but rather a fact. Much as the last two years were a strain in the business community, it wasn't for me. You know this issue of being at the right time and the right place. Yes, you also know that in the 47.7million Ugandans, 72.4% are employed in the agricultural sector and are predominantly rural-based. The pandemic kicked in and the farming community was one of the ones affected in one way or another. Yes, the lockdown, was for all but farmers ket go to their farms to work. The issue was with transportation. And that is where farmers had to rely on our core values like quality, convenience, affordability among others. 
So through that time their experience with our services and products trying our products had to recommend us t their fellow farmers. Because that's how the sector works. Once one has seen good service, he or she tells another and so on. Sincerely getting a penny from those people in the grassroots is hard our pride however is when they get to use our services and products and they appreciate them they can recommend and endorse our services to others for free.
So we had to reposition ourselves for the right funds like the UNCAF, outbox, among others. We made sure to deliver up to the best possible way the established brands do so. And once those established brands appreciate your work then they can easily endorse you. Then you don't have to speak about what your services are because they will be more than willing to do that for you at no cost. So those few things we have done speak for us and can what our quality is like.
How have you been able to survive during these last two years?
Mr., Dennis – I will start by asking this question to the audience. How many of you deal in a product company by show of hands? If you do where are your products as you have come to this engagement?
One sure thing I do is whenever I have a show, interview, or a chance to talk about my product and the company. I bring samples of my products for people to see, feel touch, and taste them. You can only do that if you are confident with your product. 
You must learn how to believe in yourself. Yes, with the coming of the pandemic many businesses closed, many shined/ shone as well. If the product you are sending to your customers cannot stand a test of referrals, then it's not a good product. If you cannot testify on your product, your family and close friends cannot testify on the product that you intend to put on the market, how then do you expect people out there strangers to attest to the product. 
I had a challenge, my children at home could never be convinced that my products especially the crisps were better than the gorillos. This gave me a lot of sleepless nights that I had to do everything I could to convince them that my product was much better than the gorillos. Until the one time, she (one of my daughters) admitted that indeed my tomato flavored crisps were a better product than the gorrilos that I felt at peace and very calm. I was sure that the world would easily accept my product once in the market.
When the covid-19 pandemic came in, it found a prepared team, a team that was building a certain level of resilience. From my work schedule and routine, I had prepared myself to do even more to sustain my business. I had to wear a positive attitude. I had to believe in myself and my product.
I believed that it had come and it will have to go at one time.
I believed that there must be business continuity
That the level of innovation had to increase, for me It was a time to work double-double. To double my effort on every single aspect I did.
That my customers and team should not run away, we had to recalibrate all our selling and marketing strategies. We realized that our website was not matching the trends of the time, so we had to change it, upgrade and match it immediately.
We had to tap into the eCommerce, the boda-bodas that were our main delivery channels to supermarkets' different outlets. We had to alter their destinations and start thinking of delivering to homes and offices instead of supermarkets since they were operating on a given schedule. Besides that, the movement of people was restricted during the lockdown. 
Sometime during the lockdown, the government went ahead and slapped a 65% tax on imported products and foodstuff. This not only brought me a smile but also a challenge because I knew the major importers of snacks were going to be limited but then how best am I going to bridge/ fill the gap that they could have created. I was challenged to put a product in the market that is as good in terms of quality as compared to the competition in the market, to meet the high-end consumers. It was very important to put into consideration the feedback.
Another opportunity crossed and that was the government was giving out funds to boost developers through the UDB, so I had to apply and get the money. Once I got it I streamlines it to mechanization and boosted my quality production. I needed the right equipment to produce the right quality of products that my customers would need. That matched with the rebranding of the products and thus cover the gap that was created by the other imported products.
I want to assure you that 80% of the capital you are looking for is in the quality of the product you are producing more specifically to those in the manufacturing sector. This is because the quality of your product helps improve the number of referrals that you get on that product. And I can assure you that referrals play a big role in the growth of your business.
At one moment we had to do what we call backward integration. We realized that most of the middlemen who were supplying to us the raw materials were taking a lion's share in the supply chain. So we had to involve the local farmers, sign partnerships with them to have them directly involved in supplying to the company. It improved our company relations with the public and specifically the farmers. 
We also realized that we didn't have to buy our company supply vans and trucks and that using the carrier service providers was cost-effective and that is what we switched to. We also knew that it was important to have the sops followed and practiced to the detail. So we promoted employee protection, and safety urged our employees to camp at the company to ensure continuity of production. So at the end of the day, continuous improvement of the product was key in delivering value to our customers.
Thank you, Mr. Dennis, for turning to you Mr. Julius; how have you been able to improve the customer experience in your company and sector. However, you are able to respond to the customer experience and revaluation.
Mr. Julius: our model lies in the line of farmers being in a position to source quality, affordable imports. The question rather is what next after that. They needed to be guaranteed markets for their produce and farm products. The question then, "can I have a ready market for my produce?" is one that we were faced to answer after giving them quality inputs in the agricultural farm business. It's something we have worked on and have been able to deliver on. We realized that people thein Ngabiranos' of psalms food industries want to be sure of the quality of inputs used during production to give you market, this is because at the end of the day you the consumer must be assured that the product in the market is of quality.
This is the point where you go back to reverse engineering. With the question of how do I match the products add the standards of the raw material that they need. Be clear with farmers doing the production than having to create bulking centers. Where all those are collected in a central place where all those products are collected stored and made accessible to the major companies that look to for these products. 
Famunera is setting up regional central collecting places over the country (regional bulking centers) we have gotten into partnerships with investors and funders like UDB, whose question is literally how best do we think their investments will pay off. This we have assured them.
Do you deal only in agricultural products or you are also into animal husbandry and produce? That goes for you JULIUS. By Nangabi Ruth the CEO Engo Tours.
To Mr. Dennis, my question lies in the marketing and branding sector. Some of us have always wanted to do branding of our products but the sad truth is that in Uganda no branding company is going to give you a brand that can compete in the international scene. How did you break this barrier as psalms food industries?
Julius: Famunero deals with largely agricultural produce and inputs in the agricultural sector. We as well deal in animal feeds and supplements only. We do not deal in medicinal, also go ahead and provide veterinary advice to farmers. 
Mr. Dennis. What I can tell you is my deal is to always engage in research and your research should not be limited only to Uganda, but also outside Uganda. I remember the very first time I was faced with the challenge of re-banding I had to go out, to Kenya and make my research about which particular brand I wanted. I needed to see how others are doing it so that I can learn from them and also do better.