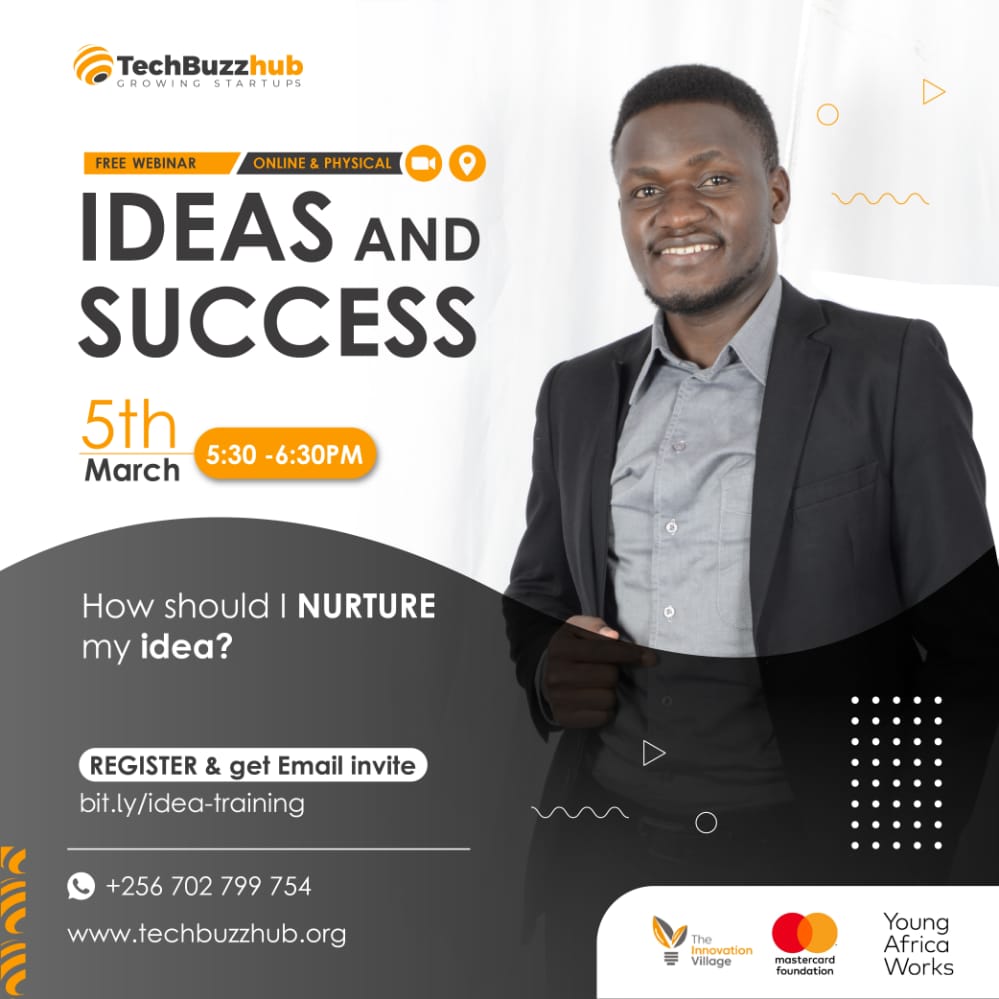 IDEA AND SUCCESS
How can I nurture my Idea?
My name is Keneth Twesigye, I am the team leader at TechBuzz Hub. TechBuzz is a place where startup entrepreneurs work from.
On a-day-today basis while at the hub, I spend my time supporting my team to do the right things, that we believe can get us to our next mile.
I am in charge of talent acquisition and recruitment, engaging with customers to learn if we are providing them appropriate value. I often also spend time on calls and meetings like this and the world out their opening doors and making connections'
Not to forget, business development and understanding where the industry is going are some of the other things I also do.
I am excited to be discussing this topic. Ideas and Success. One of the things I have learnt over time is that, everyone has ideas. Actually, ideas come from thoughts and research says that, averagely a person gets 6,000 thoughts a day.
The exception is, not all thoughts are Ideas. This is because, an idea is only that that has gone through a thorough process of analysis and evaluation. During this evaluation, maybe you are thinking about, how it solves a certain problem or how it delivers value.
How do you measure the window of opportunity?
I can relate this question to the way I was brought up. Growing up, I was someone that really appreciated women. Not because I am a lover, but because of their African beautiful and attractive structural design, hahahaha. So, I was fond of peeping through the window so that I can see the passing ladies with a full view without them recognizing me.
In my view, the window in the question means, how one can view opportunities that the rest cannot see. Or as opposed to the door, the window is not where else can choose to pass.
Therefore, some of the following might be areas for consideration as you are spotting the right opportunity.
Less competition
Problem manifestation
Scarcity situation
Passion into it (How much passion do clients observe in the vision bearer?)
Knowledge of the subject matter
Challenging the status quo
But we can measure
What market research is to be used?
It is very critical to consider basic research at idea stage actually. The best methods you can do result-oriented research is through;
Questionnaires,
Interviews and especially one-on-ones are one of the ways
Sampling: This is where we can develop test versions of our products / services.
Version testing and control for the feedback from clients might be a good fit for Techpreneurs. This is where the lean model applies actually.
What are the differences between losers and winners?
Like any other competitive platform or race, we have losers and winners. Actually, it is still in business where the statistic is almost consistent. Who has not heard that 90% of startups fail? Even today, the global statistic has not changed.
However, if you must separate yourself from the loosing end, make sure you pay attention to some of the following elements of a business.
Business model
Research
Consistence
Brand management
Marketing
Which resources are most difficult to get?
Generally, for a startup, all resources are difficult to get. Even when you get them, you possibly find it worrisome and challenging to manage them. I am simply sidelining onto monetary resources. I therefore want to discourage you from thinking about resources that are money related as the first resources. I would rather we speak resources in diversity terms first. In fact basing on my judgement, I would consider resources in this order;
Idea
Knowledge and skills
Team
Funds / Capital
What are the worrisome and exciting issues?
Hahaha. It's amazing how everyone is excited about owning a business or becoming an entrepreneur. I like how my friend CK Japheth of the Innovation village puts it. ''Being an entrepreneur is 26-hour job a day'' This in itself means that its actually more worrisome than it could be exciting. But yet actually if one knew what worries, maybe they would find easily tun the worries to enjoyable wins.
Well, my assumed worrisome things for a business are;
Implementation
Sustainability
Funding
Market
On the other hand, it is exciting to be your own boss as well as opportunity, isn't it?