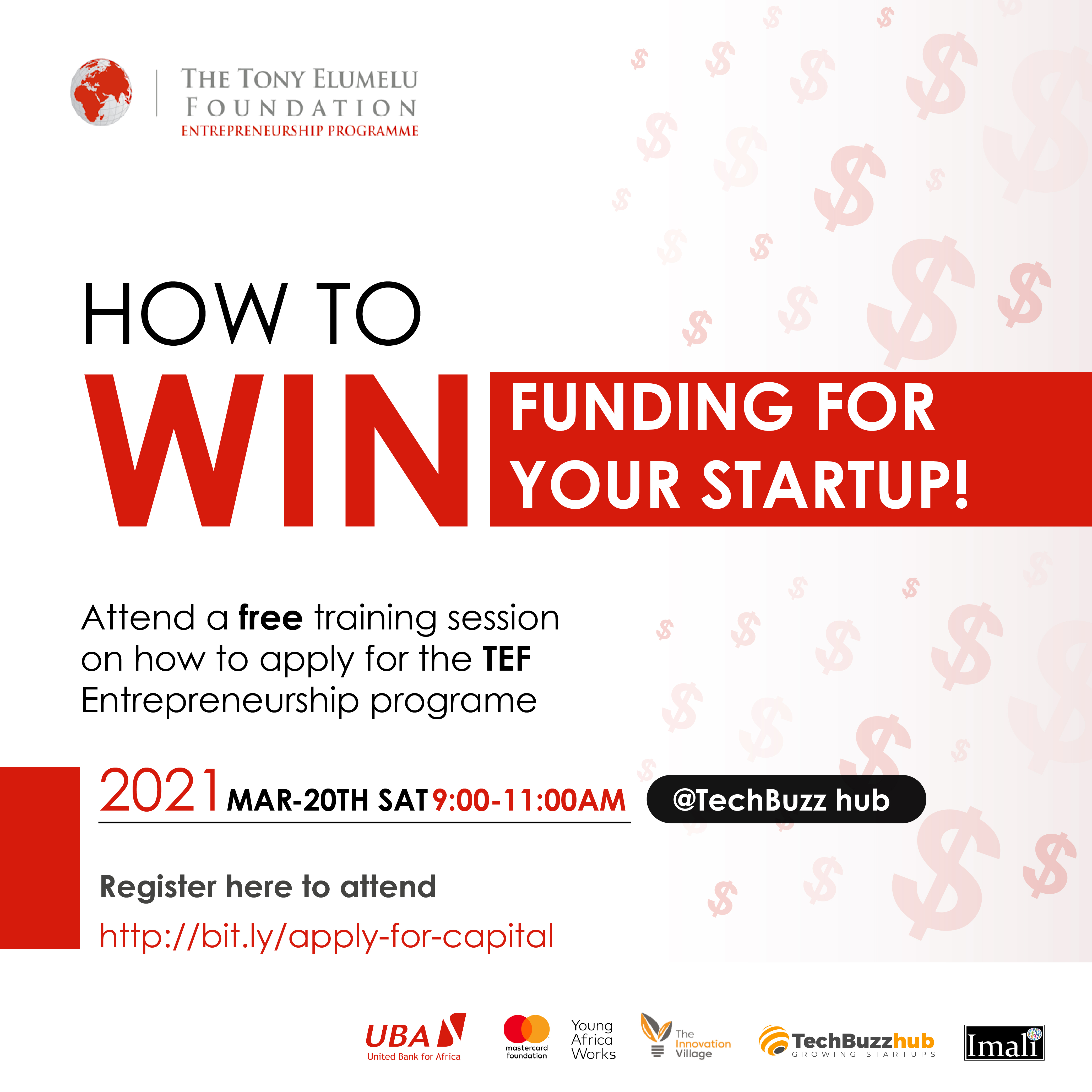 Tony Elumelu Foundation Application Drive 2021
The Event was organized by TechBuzz Hub in collaboration with Imali which both companies are beneficiaries of the same foundation 2016 and 2017 respectively.
The event which had a response of over 390 entrepreneur participants was hosted remotely via a zoom call for a period of 2hours.
This event was running on a program that had two major items;
Application induction by Racheal Lwantale of Imali
Idea to Success Training by Keneth Twesigye of TechBuzz Hub
ITEM ONE
Racheal shared the preamble of the foundations programme overview, mission & vision, benefits of the programme, how to register and how to revalidate.
This program has so far supported and empowered over 9000 entrepreneurs across Africa with over 250 Ugandans. The support includes Mentorship, Training, Non-returnable seed capital of $5000 into your businesses, network of over 1,000,000 entrepreneurs, etc.
Note that the Deadline for this application is on March 31, 2021.
How to Register:
She actually went into details of how to register and apply as a fresh applicant. You visit the link: www.tefconnect.com and create your account. On profile registration, please select entrepreneur category.
Just like any other application, you would expect questions like about the applicant and their business, so, be sure to provide articulate to such questions given, your profile is the baseline for the success of this application.
You shall be asked to write about yourself and your business in most cases. This is the stage you need to craft your brief biography, but she encouraged whoever is applying to create a good story and how their story connects to the business they do.
Other details you may be asked to share include both your and business internet and social platforms like Facebook, twitter, website, etc.
How to Apply:
The application is in the form of a series of questions that are designed to test your business acumen.
Further, you need to note that, businesses that are registered and already running are most preferred. Whereas, then it used to be a maximum of 3 years old of legally operating, today, that seems not considered. Also, if you're at idea stage with a novel concept, you are very much qualified to be considered for the support if it is written with a very informed perspective. Also note that, the more your model demonstrates potential to create jobs, then you stand better chances of qualifying for this fund. This may be tracked from the aptitude or in your brief narrative.
The aptitude:
As opposed to the first 5 years of the program where the application was about a detailed business concept, the application has changed. Where you shall be assessed more through the aptitude to test for your business acumen-ship.
Like any other aptitude tests, this tests for your proficiency and ability to manage what you are applying for, it be a job or any other role.
This aptitude contains technical business questions that might need input of your working team, so You may consider sitting with one or two of them as you so first attempt the aptitude.
When you are done with the aptitude, what is left with is just acceptance of terms and thereafter you submit your application.
After submission, you will receive a confirmation email of receipt within 1 working day via your registered email
THIS PART IS NOLONGER BE APPLICABLE FOR 2023
Once your application has been submitted applicants will be placed in the appropriate training path as follows:
Preparatory: in this category are still nascent in their understanding of business and will likely not be able to follow the rigorous training in the Programme. Entrepreneurs that fall into this category are advised to try out our free online training on TEFConnect first before reapplying next year
Startup /Beginner: Entrepreneurs in this category have some understanding of business, but are just starting out. You will go through the beginner modules on the platform.
Innovator /Intermediate: Entrepreneurs in this category have good understanding of what it takes to run a business, but still require some developmental support. These entrepreneurs will go through the intermediate modules of the training
Disruptor / Advanced: Entrepreneurs that fall into this category have been identified to be natural or a seasoned entrepreneur. They will go through the advanced training module.
ITEM TWO
After the Application induction, Keneth Twesigye, the TechBuzz Hub lead delivered a training about Ideas and success to the attending team.
He emphasized that, great ideas must have evidenced based backup. This can be both personal, situational and environmental analyses that make an idea potentially able to become a strong or disruptive business.
He covered quite a few of them in a question-based approach. The five questions do not guarantee success but present you a great opportunity for preparation and readiness to starting an enterprise;
How do you measure the window of opportunity?
Industry with Less competition
Problem manifestation
Scarcity situation
Passion into it (How much passion do clients observe in the vision bearer?)
Knowledge of the subject matter
Challenging the status quo
What market research is to be used?
Questionnaires,
Interviews
Sampling:
Version testing and control
What are the differences between losers and winners?
Business model
Research
Consistence
Brand management
Marketing
Which resources are most difficult to get?
Idea
Knowledge and skills
Team
Funds / Capital
What are the worrisome and exciting issues?
Implementation
Sustainability
Funding
Market Access
Exciting things include;