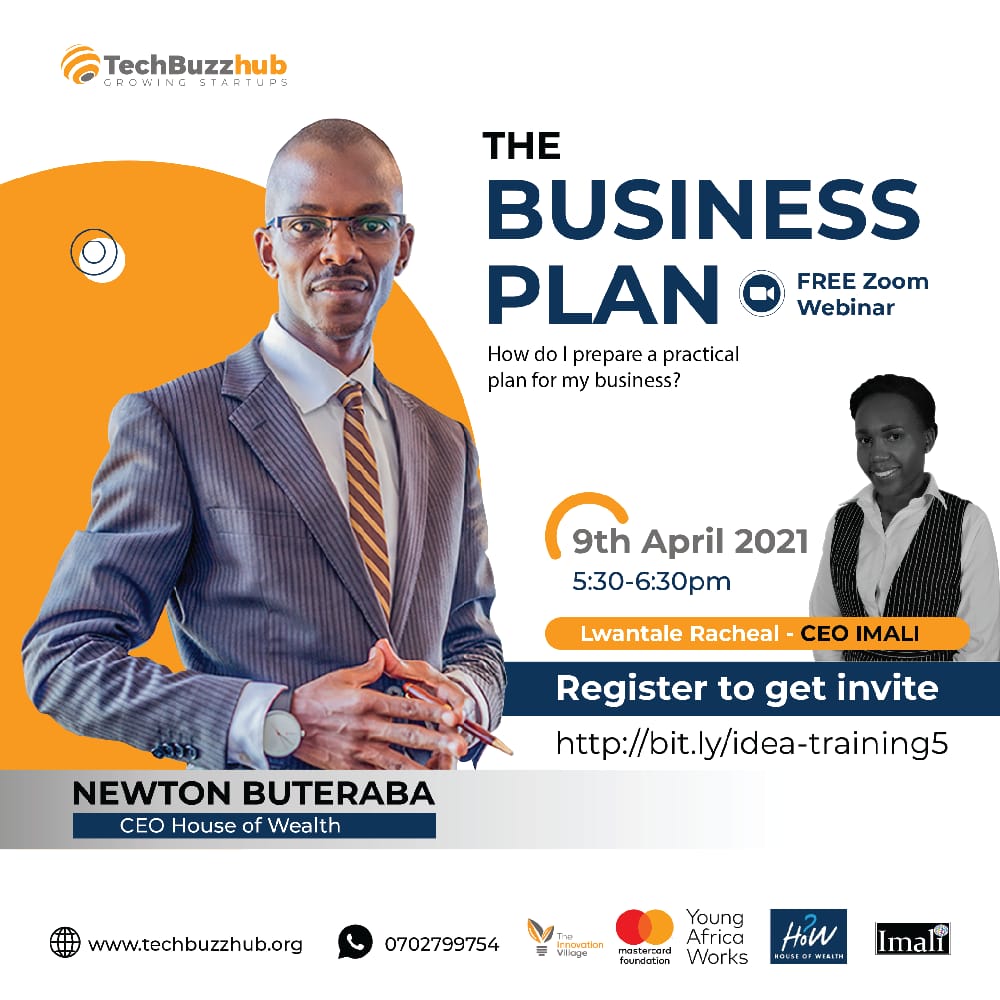 BUSINESS PLAN – TRAINING
These trainings are brought to you by TechBuzz Hub in partnership with Mastercard Foundation, Young Africa Works and Innovation Village
Have you ever ridden a bicycle without its chains, have you ever thought of driving a car without its engine affixed to it? Having a business without a business plan is just like the assumption of driving a car without an engine. A business plan is the core of a business. It is a set of work plan that a business literary bases on to do to thrive. Many entrepreneurs have practically thrived without a business plan necessarily put on paper, and many young entrepreneurs seem to question why do we need all these paper work for. I want to assure you that at the end of this article, you will see the necessity of a business plan in your business.
This article comes to you from the webinar that took place on a Friday. The main panelist was Newton Butereba of the House of Wealth and thereafter some questions and answers were taken by Racheal Lwantale from imali. It was a very fruitful event that inspires this very article. From which many of the questions arose from young entrepreneurs like you were answered. Let's go right to the start.
What is a business plan?
It's a written document which helps the business define its objectives goals and how it plans to achieve its goals. Just as simple as that, however to understand these we have word per word.
What is a business?
A business is a repeated process that does these following things;
It creates and delivers something of value.
That other people want or need.
At a price they must be willing to pay.
The value of which must be in a way that satisfies the customer's needs and expectations.
This is so that it results into a profit that builds the business.
Value creation. A business must be able to create value. In this sense it means a product that must be of value. Otherwise it shall not be relevant to the population and the other prerequisites don't stand.
What is a plan?
A plan, sometimes referred to as a strategy, is the detailed information on how some particular goal shall be achieved. you look at a beautiful land cruiser V8, and you tell yourself, I want that car. That becomes your goal. And then how you attain that goal is further explained in your plan. Your strategy. It usually involves very many things. That takes us to the main reason as to why we are here, a business plan.
A business plan simply helps one to understand, have a flow of the business. From the ideas, concepts, that generally result into a product that eventually goes to the market and thereafter have feedback and progress calculated. It generally helps one manage your business on a day to day basis, weekly, monthly, and basically yearly. It describes in detail what the business shall define objectives and how it plans to achieve its' goal through the objectives.
Why do we talk about goals? Goals are the end result of something that was in action. For example, you enrolled as a student at a university, went o compass some of your objectives includes having a lot of contacts or making friends. And so once you have those friends, you have achieved your goal. Some others will say my goal is having a first class at the end of the three years' period. And once you realize that your CGPA is say 4.5 then you know you have achieved your goal.
The things that take you to your very end are the objectives, they are the things that take you to your goals. Things that help you reach your ultimate goal.
Jim rohn says; "never begin a day until it is finished on paper". He is simply telling everyone to plan for his day before it starts. There is a chance to run your day orderly if we plan earlier. The same applies when it comes to a business. It must be planed and that is why we have a plan.
What are the contents of a business plan?
After understanding that it is very important to have a business plan, we therefore ask ourselves what is involved in a business plan. Surely just like any other plan made elsewhere there must be some contents of a business plan these include;
Value creation,
Marketing,
Sales,
Delivery and
Profit
Every single business fails or has a very big chance of failing if it does not have a business plan. If it does not have the characteristics of a business, the tenets of a business. If the plan does not describe how the business creates value, how the value is marketed, sold, how its delivered, and basically how the business makes returns. Anything that does not do the following seizes to be a business. It becomes something else, it could be a scam.
Value Creation. This involves creation of a chapatti, or a Rolex, or baking bread. This product that you have created must have value. In the first page of your business plan one must show how he creates value and how his business creates a product. It does not necessarily mean that the product must be created by you, it can be done by some other person for you meaning it involves paying for those services.
Marketing: The following topic is usually how the product shall be marketed. How you are intending to have your product attract attention. A full description of how you intend to attract attention from the various segments of the market. Is it by using posters, need people to taste your product, will you look for celebrities to advertise your product on your behalf.it is good to have a marketing plan that avails feedback. This is because an entrepreneur always yearns to grow, so feedback help achieve growth of to a business.
Sales: After creating a product of value, you are sure that the product is needed by the public, and thus they want it at a given price, you have marketed the product and now the next thing your business plan should explain is how you do the sales. Is it through sales agents, does it involve delivery.
Delivery: While explaining the contents of a business plan, newton found it very necessary that it included a delivery plan. Usually your product that appeals to the audience you have, will want it delivered to them. This is part of customer service. The importance of this is that it shows how you value your product, how you understand the customers or people literally buying from you and you expect to quench their urge. You want them to be satisfied with your service.
Profit motive. Quite related to sales and marketing. This part of your business actually defines your business. No entrepreneur wants to engage in an activity that is not redirected to gains or profits. These profits are realized through sales and good marketing.
What can you do when your business faces business interruptions that were not foreseen for example the Covid 19 pandemic that sunk down most of the businesses? By Brian.
Racheal Lwantale replied to this by saying that you as an entrepreneur must be able to adjust and rebrand your business in order to survive such drastic situations and catastrophes in a business world. The best example is "Jumia" they moved from one line of distribution to another just to survive.
Is there any way someone can push a business from home and still have clients come to your home? By Ritah.
Yes, you just don't have to tell them that you are working from home. You tell them that is where your business is located. Besides tech buzz hub together with Imali provide start up services like co working space, virtual space network, startup incubation, work place addresses where you as a young entrepreneur can benefit. You do not have to meet clients at home. You can as well hire a space to meet your clients if you think it will inconvenience them at home.
The bottom line is that "knowledge is power" says some unknown author. When you get to plan your business, you get to learn allot of information on how best you want it to run. That information is your power against your competitors in the market.
Look out for our next webinar about the market research. We bring to you these webinars to transform your perspective from its already impossible to its possible.
By: Andama Moses Martin
Asst. Operations
TechBuzz hub